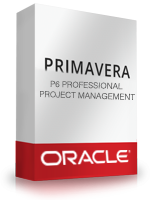 List Price:$3,520.00
Our Price: $2,992.00
P6 Professional Project Management (Oracle License #L70321)
Primavera P6 Professional Project Management gives today's project managers and schedulers the one thing they value most: control. Primavera P6 Professional Project Management, the recognized standard for high-performance project management software, is designed to handle large-scale, highly sophisticated and multifaceted projects. It can be used to organize projects up to 100,000 activities, and it provides unlimited resources and an unlimited number of target plans. Massive data requires sophisticated, yet highly flexible organization tools to provide you a multitude of ways to organize, filter and sort activities, projects, and resources.
We encourage the purchase of Oracle Support with your Primavera license. Oracle Support provides technical support through https://support.oracle.com/ which includes access to installation guides, future updates, patches, and maintains your eligibility for future product releases. Cost of first year support is $774.00 and can be purchased with the license. Oracle will contact you directly in years 2+. Estimated cost for second year support is $523.50 per license. We highly recommend the purchase and continuation of Oracle Support.
*Sales tax charged in Nevada, Texas, California and Hawaii.